FIFA Mobile Team Building Tips & Tricks -How to Create A Strong Team
2019-07-10 01:25:28

Having a strong team is everything in FIFA Mobile. However, building a powerful team is complicated, as it involves many factors and you need to upgrade it constantly. If you are new to FIFA Mobile and just get started with team building, then be sure to read on in order to build your dream squad.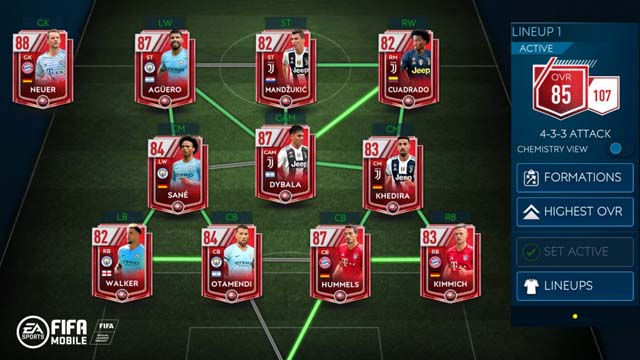 Tip 1: Starting 11 Is All You Need - there are 27 positions to fill in your squad, but you only use 11. Take some time to pick a formation or two you think will work well and focus on buying players to improve those positions. Only this will save you a lot of time and money in the early phases. You can always change formation later as you open or buy up better players in other positions.
Tip 2: Key Positions - Some positions are more important than others. Obvious, yes. What isn't so obvious at first is how to fill these key positions. You need attackers who can beat defenders and put the ball away, and to a lesser extent, defenders who can stop these attackers. Striker is the most important position of all, closely followed by the support role (which depends on formation...it may be CAM, it may be CF, it may be LF & RF). You need a fast guy who can outpace defenders and bang goals in regularly...goals are all that count, pretty passing and intricate moves are secondary in this game (yes, I wish it wasn't so too, but it is). Make this signing your priority...until you have filled this space with someone you can use well in Attack Mode, don't even bother trying to replace that bronze player at LWB. Other good positions to focus on are CB (strength, speed, heading and tackling), CM (speed, passing) and GK (reflexes).
Tip 3:Attributes Are Everything - overall rating is not necessarily a good indicator of usefulness. Take the time to check a players attributes before buying or putting him in your squad. Certain attributes are useful for every player, some are useful for only attack, some only for defense. He might be fast, but may also have terrible finishing or passing ability. He may be able to dribble around every player in their team, but is so slow they get three goes at tackling him. Some players have a low overall rating, but excellent ratings in two or three key attributes for that position...these are your budget players that will perform well enough until you can afford the big guns.
Tip 3: Cost Is No Guarantee Of Quality - the market seems to be generally accurate on cost/quality ratios after you hit Elite level players...but up to that point, a player that is perfectly good and useful for a beginner is often the same price as one that is terrible. Check attributes, consult Reddit, see what other players use, do some research, but don't just buy someone because he costs a lot. He needs to fit your game plan and team. However, sometimes it is worth to buy certain costy but great players with Cheap FIFA Mobile Coins.
For more news and guides on gaming, stay tuned with Igxc.com, a professional online in-game currency store for purchasing Cheap FIFA Mobile Coins.
---
---