NHL 20 will add a battle royale mode: Eliminator
2019-08-07 09:15:07

EA's sports game "NHL 20" will add a new mode: Eliminator, which is similar to the popular battle royale game on the market.

As usual, the EA announced the new NHL at the NHL Annual NHL Awards 20. The NHL series is an ice hockey sports game produced by EA. According to official announcements, the NHL 20 will be available on the PS4 and Xbox One platforms on September 13th, the same as the usual release week of the series. Although the preview did not explicitly reveal the newly added content of the NHL 20, the press conference was announced. NHL 19 focused its improvement on the multiplayer model "World of CHEL", and the NHL 20 made more optimizations on this basis. Improvements include the addition of the Signature Shot feature, the optimization of the goalkeeper AI, new commenting features, redesigned scoreboards and other interface changes, and the exciting Play of the Game feature. The World of CHEL mode adds new maps, appearances, and weekly tasks.

Although the above improvements are all that players are happy to see, the new Eliminator mode is truly eye-catching. This mode is inspired by the fiery battle royale game. In this mode, 81 players will participate in the survival mode game, players play against each other until the last one (or three, depending on whether you play one person or three people mode) winner.

"Inspired by the winner-take-all competition in battle royale, Eliminator is a new way to compete in NHL Ones and NHL Thress that pits up to 81 players against each other in a survival tournament bracket to be crowned the ultimate winner," EA said of the new mode.

"Compete solo in Ones Eliminator, or squad up with friends in Threes Eliminator as you attempt to win three back-to-back elimination rounds against increasingly competitive opponents for ultimate bragging rights."

However, unfortunately, the picture of this game has not been improved. On YouTube, many players have commented that the picture of the NHL 20 is not improved compared to the previous 5 series of NHL.

NHL 20 will release on September 13 worldwide, but fans who pre-order the Deluxe or Ultimate Editions will receive early access beginning September 10. Even earlier, subscribers to EA Access will be able to play the full game on September 5 thanks to the service's early trial period.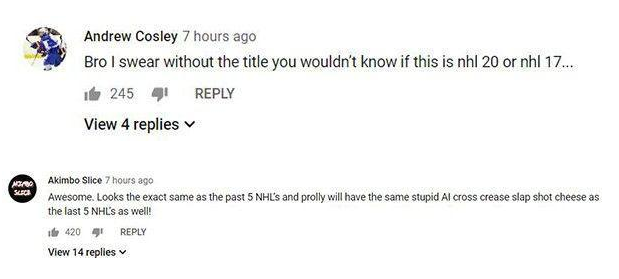 The NHL 20 will be available on the PS4 and Xbox One platforms on September 13, 2019, and pre-order players will be able to play the game ahead of September 10.
---
---